Masturbators Cup Information
Lightweight and portable: Only 3.34 inches, you can carry it anywhere. A sex doll is your best choice for sex, but she can't follow you anywhere. A portable Masturbators Cup can properly ease your miss for her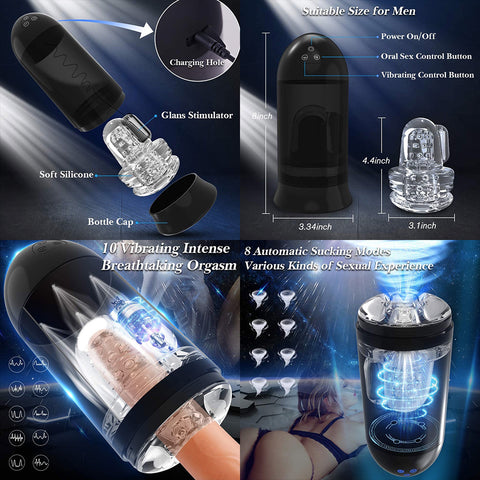 Enhanced Suction Functions: The male masturbator is equipped with an automatic pump to generate suction. You feel that your penis is being sucked as the protagonist of a blowjob game.
Realistic 3D Texture Tunnel: This male masturbation shell has a tight but stretchy, vagina-like opening and a textured 3D structure that gives you a fully female oral sex experience with deep neck.
10 Vibration Intensities & 8 Suction Modes: Each suction mode of this male masturbator sucks for different seconds, and offers you a variety of options to explore all kinds of fun.
Stretchable TPE material: the inner shell of this male masturbator is made of transparent high quality TPE material, which is full of elasticity and suitable for men of all sizes.
Removable & Easy to Clean: This male masturbator can be easily cleaned due to the removable design. You can simply pull out the TPE silicone and wash with some soapy water or other water-based detergents.